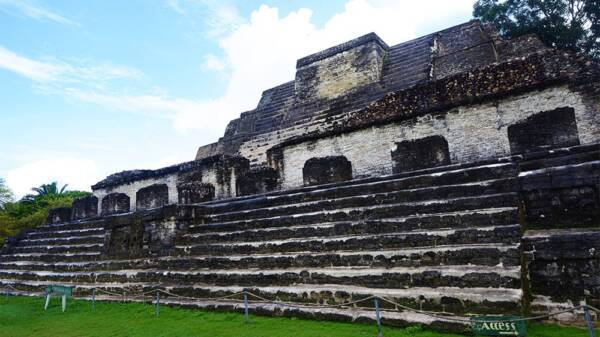 Altun Ha, which is Maya for "rock stone water," is the ultimate Mainland experience in Belize. Get ready for some fun! Hop aboard our twenty-eight foot or thirty-four foot skiffs and settle in for a scenic and comfortable boat ride. Head westward across the San Pedro Lagoon toward the mainland and enter the Northern River. A thirty minute ride up this narrow, winding river is one you won't soon forget.
Depending on the time of year, our skipper may have to keep his speed up to miss the submerged rocks and tree logs. There are, however, areas where the river deepens and your skipper will actually stop your boat so you can observe the jungle wildlife that is so plentiful in this area of Belize.
Your boat will dock at the quaint Village of Bomba. There you can buy souvenirs or just observe tradition being practiced by local residents. Of course, you may see some of the locals in Hard Rock t-shirts, so don't expect loincloths.
A van will pick you up in Bomba and take you up the old and bumpy Pan-American Highway to the ancient archaeological site of Altun Ha. Stelae, sacrificial altars, various temples and dozens of out buildings have been discovered here. Some have been restored, but many are in the condition they were found. Excavation began back in 1965 by the Royal Ontario Museum.
When your on-site tour of this historical treasure is complete, you'll hop back in your van and head to Maruba, one of the most unique jungle lodges in Belize. Here you can have lunch, get a massage or facial, ride a horse or take a nap and listen to the sounds of Belizean wildlife. Of course, these are optional and are not included in our prices.
After an hour or so at Maruba, you'll head southwest to the Northern River where you'll rendezvous with our boat for your return trip to Ramon's Village Resort on Ambergris Caye.
Trip departs Ramon's Village dock at 8:30AM and returns at 4:30PM. Requires a minimum of six persons or you can pay an additional fee and go with less than the minimum. Bottled water and soft drinks are included. Requires a $5 USD Park Fee. Lunch at Maruba is an additional cost.