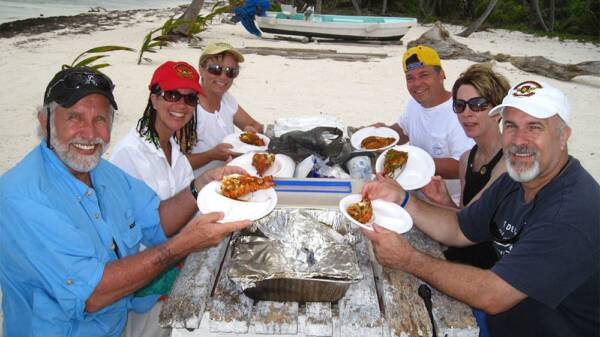 When the owners of Ramon's Village bring their guests down for a visit, the Beach Picnic is always on the top of their "things to do" list! Over 1500 years ago, Robles Point served as an outpost for the Mayan Indians who occupied the north end of Ambergris Caye. The fortified walls, even though now collapsed, can be seen even in the thick underbrush. It is near this area where a lavish beachside picnic will be prepared (provided you catch, hook or spear something on your way from Ramon's Village Resort to Robles!).
Your beach picnic excursion will begin with a comfortable boat ride northward to Mexico Rocks where we will make a snorkel stop. Here you will be able to catch, spear or hook your own lunch. Whatever is in season will be marinated with our special mixture of herbs and seasonings. As you continue on to Robles Point, your first mate will prepare conch or shrimp ceviche, a delicious mixture of flavors that will make you crave for more.
After arriving at Robles Point, your guides will build a fire while you walk the beach in search for treasure. You can never tell what you might find washed up on the beach. The owner of Ramon's has found many items of great interest. When your lunch is ready, you'll sit down to coleslaw, tortillas, baked potatoes, chips and your seafood "catch of the day." You'll be talking about this experience for years.
On your way back to Ramon's, a brief stop at Mata Rocks allows you to get one more taste of God's creative handiwork beneath the sea. In our opinion, you can't snorkel too much in our beautiful Caribbean Sea.
Trip departs Ramon's Village dock at 9:00AM and returns at 4:00PM. Requires a minimum of six persons or you can pay an additional fee and go with less than the minimum. Bottled water, soft drinks and picnic lunch are included.