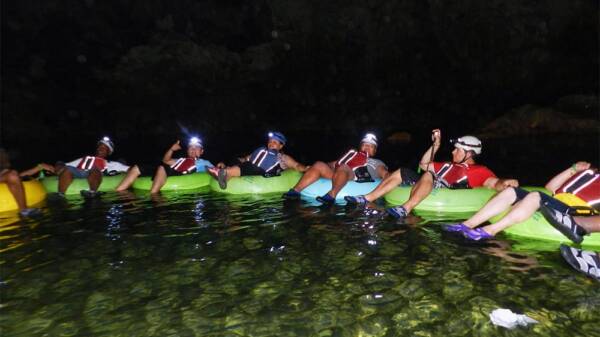 Enjoy a scenic boat ride across the shallow waters that lie between San Pedro and the mainland of Belize where you'll be met by your tour guide. An air-conditioned tour van will pick you up, and together you'll travel up the Western Highway to Jaguar Paw Nature Reserve in the Belize jungle. You will enjoy an easy, guided hike through the rain forest on well maintained trails which will lead you across the Caves Branch River and through two dry caves. Your guide will point out interesting flora and fauna along the way while sharing facts and information and answering questions.
When you reach your destination with your inflatable inner tube and headlight, you will enter the crystal clear, cool spring and rain fed waterway and begin your gentle cave tubing journey that will wind through a cavernous underground tunnel system. Be sure to take an underwater camera! You'll be amazed by the beautiful stalactite formations.
Upon exiting the cave system, you will float downstream under a majestic canopy of trees lining the riverbank until you reach the beginning of the walking trail where the tour originated.
Showers and changing rooms are provided at the end of the trail so you can change into dry clothes. For the cave tubing tour, it is best to wear shorts and shirt over your swimsuit. Wear shoes that will protect your feet against the rocks and that will not come off easily (flip flops are not recommended). This tour requires walking and that each person carry their own inflatable inner tube which is furnished by the tour operator. Floating inside the caves and down the river requires some paddling with your arms.
Next is an exhilarating experience on the Aerial Trek Zip Line through the Belizean jungle! Upon arrival, you will take an enjoyable walk along a jungle path through the dense tropical rain forest with views of the river and rock walls with dark cave entrances where jaguars once lived and may still live!
Once you're harnessed up in your gear, you will traverse from one suspended platform to the next, eighty feet above the jungle floor, whizzing past a stunning display of tropical flora and fauna, exotic birds and even black howler monkeys.
The zip trail includes eight platforms with handrails, a double-cable zip line for added safety and very capable, friendly zip line attendants that help you every step of the way.
After the activities are complete, you'll be ready for the lunch at a local restaurant that is included in the price of the tour.
Trip departs Ramon's Village dock at 7:00AM and returns at 5:00PM. Requires a minimum of six persons or you can pay an additional fee and go with less than the minimum. Bottled water, soft drinks, continental breakfast and lunch are included. Requires a $5 USD park fee.