Caye Caulker/Sail/Snorkel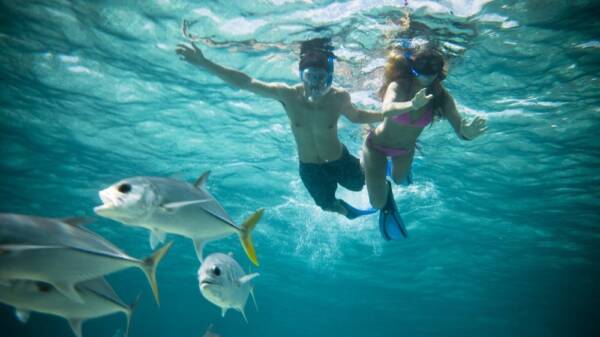 Fourteen miles southeast of Ambergris Caye lies the island of Caye Caulker. Five miles long and one mile wide, this quaint island has been a destination for backpackers and ecological minded travelers for as long as we can remember. The general population is mixed with Garafuna and Rastas, sprinkled with a few Europeans and Americans. The music you hear playing from the shops lets you know this island is definitely not Americanized.
Our trip begins at Ramon's Village dock, and as soon as your party is aboard, we will set sail for Hol Chan, the second most popular snorkel site in Belize. Millions of small fish and big fish such as grouper, barracuda, yellow jack and even green morays inhabit this magnificent underwater National Park. The park is part of the Barrier Reef system which was designated a World Heritage Site by the United Nations several years ago.
The ultimate Hol Chan experience, will be your exciting half hour "swim with the sharks." That's right, you can swim with the sharks and the stingrays in Shark Ray Alley. Dozens of nurse sharks will circle your boat as if they were the Caribbean's welcoming committee. When you enter the water, you can observe the activities of these friendly sharks and rays up close and personal if you're adventurous and not faint of heart. However, it's against the law to touch or hold any marine life while snorkeling or scuba diving. We promise you'll talk about your shark adventure for years to come.
Back aboard, lie back and enjoy the ride to Caye Caulker. Then go ashore, and spend some time dining at one of the very unusual cafes, or go shopping in some of the gift shops that are there for your enjoyment. The non-stop ride back to Ramon's Village Resort is the perfect time to relax and soak up some sun so all your friends know you went on a beach vacation when you get home.
Trips depart Ramon's Village dock at 9:00AM and return at 4:00PM. Lunch at Caye Caulker is not included. Requires a minimum of six persons, or you can pay an additional fee and go with less than the minimum. Bottled water and soft drinks are included. A $10USD park fee is required.