Belize is not just a Scuba Diver's Paradise. The Good Lord provided for the fisherman as well. On Ambergris Caye, we enjoy fishing along the Reef, fishing in the Flats behind the island or Fishing in the deep blue water beyond the reef.
If you prefer light tackle, the saltwater flats that surround Ambergris Caye and the outer island atolls provide some of the best bone fishing in the world.
We have an experienced staff of guides waiting to give you an unforgettable sport fishing adventure.
Reef Fishing
Hop aboard one of our twenty-six foot handcrafted, Belizean boats and head to where the "big ones" are.  Speaking of "Heads" these boats have one, so everyone can enjoy the outing.  This is fishing made easy. If you don't know what you are doing, don't worry; our guides do. If you don't have fishing gear, we have plenty of rigs, and one of them is bound to fit your hand. Your skipper will have everything you need to make your fishing trip a great success. You'll have a chance to catch Snapper, Yellowtail, Grouper and Barracuda to name a few.  And don't worry there are always plenty of fish along our barrier reef.  At Ramon's Village, we encourage catch and release unless you want us to cook your catch 'cause these are some good eating fish.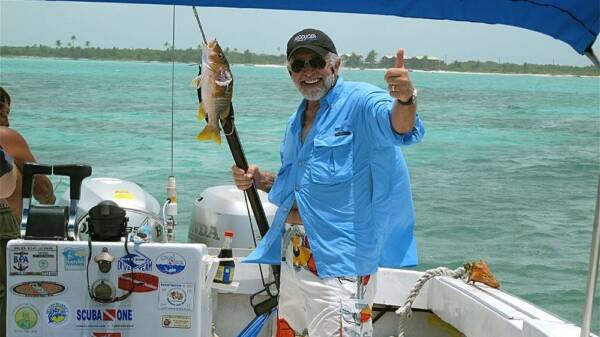 You might want to mix things up a bit and try our full day Fishing Trip with a Picnic Lunch on a secluded beach.  Our guides are wonderful cooks and will cook your catch over an open fire, with all the trimmings to go with it.  After you've had time to relax awhile, you'll have your choice of more fishing or a refreshing snorkel stop.
There's always something wonderful cooking at Pineapples On The Beach, but you may want Chef Rommy to "cook your catch" of the day. For a very modest fee, we will clean, prepare, cook and serve your catch, your way, along with your choice of the rice of the day or baked potato and steamed vegetables.
We have half day and full day trips available. Water and Soft Drinks are provided. Lunches are not included. One to four persons per boat.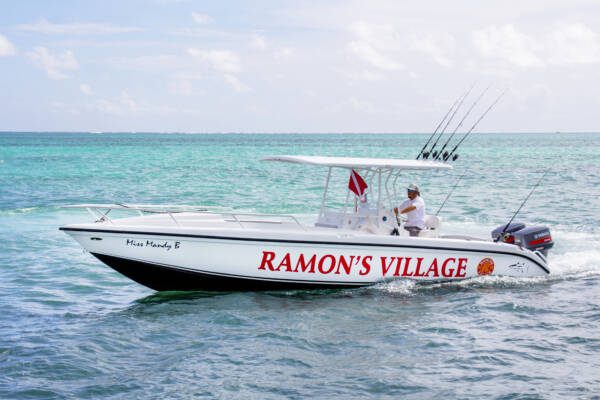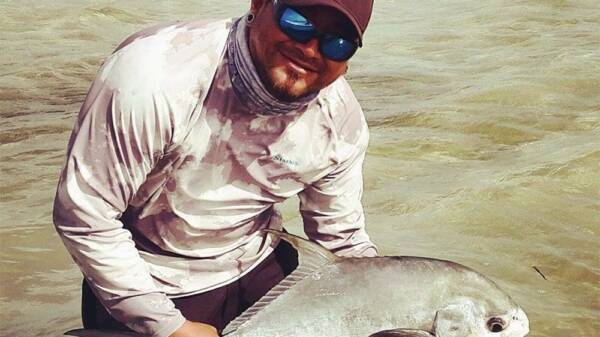 Flats Fishing (Tarpon/Bone/Permit/Snook)
Use a fly rod or spinning rod; the choice is yours. You know your skill level, so pick your "weapon" and let's go gettum. If you forgot to bring your gear, do not fear; we've got you covered. As a matter of fact, all you need to bring is yourself, your guest, some suntan lotion, a long sleeve shirt and a towel to cover your legs. The twenty-four foot boat you'll go in has no top, so you'll get plenty of sun, and if you're not well sun-screened, you could get cooked.
If you're fishing for the Caribbean fighter the world calls "bonefish," then get ready to flex your muscles because you're about to get a real workout. If you're in search for the elusive tarpon, just trust your Ramon's Village guide. He knows where they are and we've seen some mighty nice photos of some record book catches. Why not go for the Triple Crown and include a nice permit along with your other catches. Perhaps the next record book catch is waiting for you to claim the credit. Of course, you know you can't keep it, so take your camera and record your moment for posterity.
| Fish | Jan | Feb | Mar | Apr | May | Jun | Jul | Aug | Sep | Oct | Nov | Dec |
| --- | --- | --- | --- | --- | --- | --- | --- | --- | --- | --- | --- | --- |
| Tarpon | G/F | G | G | E/G | E | E | E+ | E+ | E+ | G | G | G/F |
| Bonefish | G | G | G | E/G | E | E | E | E | E | E | E/G | G |
| Permit | G | E/G | E | E | E | G | G | G | G | G | G | F |
| Snook | E | E | E | E | E | G | G | F | G | G | E | E |
E= Excellent, G= Good, F= Fair
We have half day and full day trips available. Water and soft drinks are provided. Lunches are not included. One to two persons per boat.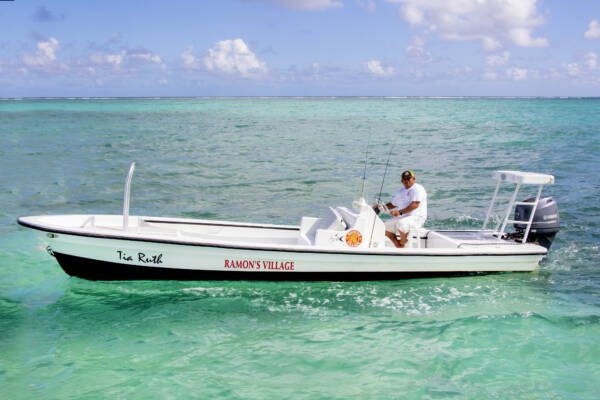 Deep Sea Fishing
Bring your gear, or use ours. Hop aboard our forty-two foot deep sea fishing boat for a day of excitement. That's right, just off the Ramon's Village Resort beach is the second largest barrier reef in the world, home to some of the largest game fish in the Caribbean. In less than five minutes, we are outside the reef and trolling for the big ones: Marlin, Sailfish, Wahoo and Mahi Mahi to name just a few.
Bring some sunscreen, a long sleeve shirt and a camera for the photo that dreams are made of.
We have half day and full day trips available. Water and soft drinks are provided. Lunches are not included. One to six persons per boat.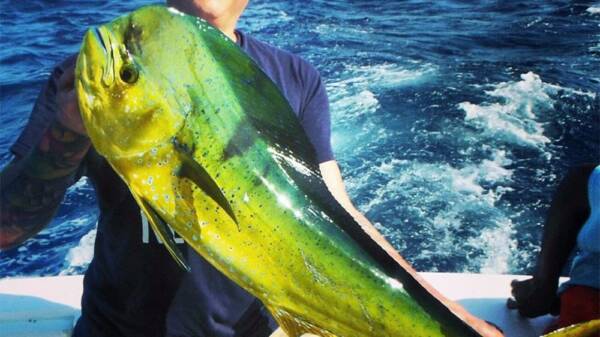 | Fish | Jan | Feb | Mar | Apr | May | Jun | Jul | Aug | Sep | Oct | Nov | Dec |
| --- | --- | --- | --- | --- | --- | --- | --- | --- | --- | --- | --- | --- |
| King Mackeral | R | F | F | G | G | G | F | F | R | R | R | R |
| Marlin | G | G | G | G | G | G | F | R | R | F | G | G |
| Sailfish | G | G | G | E | E | G | F | F | R | R | F | F |
| Tuna | G | G | G | G | G | G | G | G | G | G | G | G |
| Wahoo | E | E | E | G | G | G | G | G | G | G | E | E |
| Amberjack | G | G | G | F | R | R | R | F | G | G | G | G |
| Mahi Mahi | R | R | F | G | G | E | E | G | G | G | F | R |
| Barracuda | G | G | G | G | G | G | G | G | G | G | G | G |
E= Excellent, G= Good, F= Fair, R= Rare