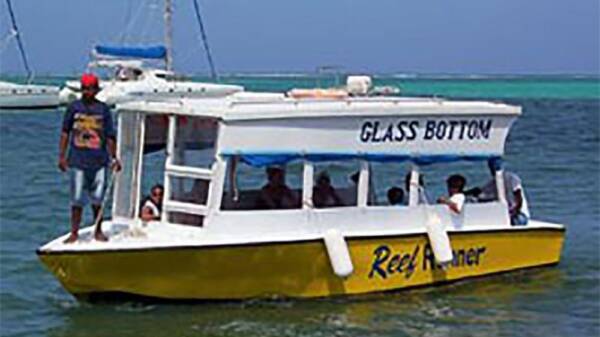 Senior citizens and kids will love this trip. As a matter of fact, the whole family will love this trip! All you have to do is get on board and we'll do the rest. A brief twenty minute ride to Hol Chan Marine Reserve is enjoyable, and there are lots of things to see on the way. When you arrive at Hol Chan, your eyes will not believe the wonder of it all. Large fish are plentiful, but the number of small colorful fish will take your breath away. Sharks, rays and barracuda are also residents of Hol Chan as are a few sea turtles, eels and grouper. There's no shortage of marine life, but marine life is just half of what we have here in this area of the Caribbean. The reef is the frame around our magnificent array of undersea life.
While we're at Hol Chan, your skipper will anchor for fifteen to twenty minutes, and you can see firsthand the creative genius of this undersea wonder. If you have on your swim trunks, don your snorkel gear, and take to the water to enjoy the plethora of fish and an array of tropical marine life and coral.
Next, the glass bottom boat will take you to the amazing Shark Ray Alley where you can observe sharks and rays from the safety of your glass bottom boat or get in amongst them! That's right, you can swim with the sharks and the stingrays in Shark Ray Alley. Dozens of nurse sharks will circle your boat as if they were the Caribbean's welcoming committee. When you enter the water, you can observe the activities of these friendly sharks and rays up close and personal if you're adventurous and not faint of heart. However, it's against the law to touch or hold any marine life while snorkeling or scuba diving. We promise you'll talk about your shark adventure for years to come. Sorry, no scuba allowed at this site; only snorkeling.
Our coral has been around for thousands of years and is actually a living organism, so we respect the world's second largest barrier reef. Help us take care of it because when you see it close up, it's easy to recognize, it is truly the Creator's masterpiece.
Trips depart Ramon's Village dock at 9:00AM or 2:00PM and last about two and a half hours. Requires a minimum of four persons or you can pay an additional fee and go with less than the minimum. Bottled water and soft drinks included. Requires a $10 USD park fee. Snorkel gear is not included.