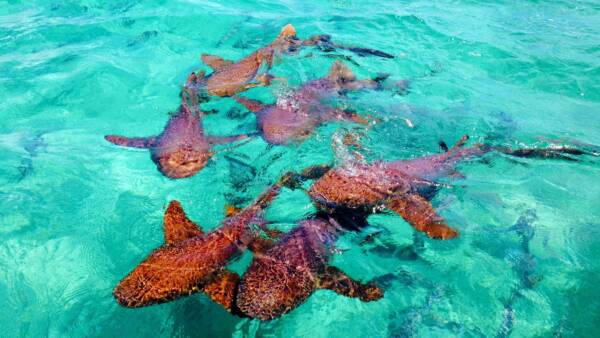 Hol Chan is our most popular Snorkel Adventure. As a matter of fact, it is the second most popular dive/snorkel site in Belize. Thousands of large and small fish inhabit this magnificent underwater National Park. The reef system that borders Belize was recognized as a World Heritage Site by UNESCO several years ago. Hol Chan, or "Little Channel," which cuts all the way through the reef, lives up to its reputation among some of the world's best dive sites. Hol Chan is safe for beginners and breathtaking for advanced divers. Don't miss Hol Chan!
Breathtaking coral of all descriptions abound in and around Hol Chan and serve as a habitat for literally millions of species of fish. Incredible stories of the magnificence of this Marine Reserve are frequently told; the reserve is well guarded and preserved. It's a marine wonderland that every snorkeler and diver (beginner and experienced) must see.
The ultimate Hol Chan experience, will be your exciting half-hour "swim with the sharks." That's right; you can swim with the sharks and the stingrays in Shark Ray Alley. Dozens of nurse sharks will circle your boat as if they were the Caribbean's welcoming committee. When you enter the water, you can observe the activities of these friendly sharks and rays up close and personal if you're adventurous and not faint of heart. However, it's against the law to touch or hold any marine life while snorkeling or scuba diving. We promise you'll talk about your shark adventure for years to come.
Trips depart Ramon's Village dock at 9:00AM or 2:00PM and last about two and a half hours. Requires a minimum of two persons or you can pay an additional fee and go with less than the minimum. Bottled water and soft drinks are included. A $10 USD park fee is required.