Lamanai and the New River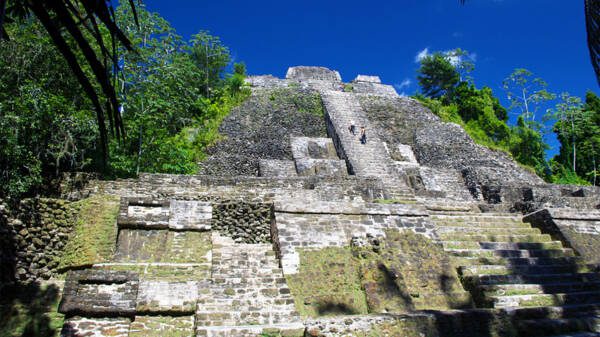 Enjoy a leisurely boat ride across the shallow waters that lie between San Pedro and the mainland of Belize to the boat marina in downtown Belize City. There, a van will be waiting to take you through the city and up the Northern Highway. After an hour and fifteen minutes of observing the scenery and cultural elements of Belize, you'll come to the small bridge at Tower Hill. There, you'll be picked up by one of our friendly associates from Lamanai. You'll really enjoy this boat ride through a real jungle on a real jungle river. As you make your way along the New River, you'll see monkeys, baboons, snakes, crocs, Macau, parrots and you might even spot a Jaguar.
Lamanai means submerged mosquito. Oh yes, I know you've read that Lamanai means submerged crocodile, but that's not true. Lamanaien means submerged crocodile; Lamanai means submerged mosquito, but that's neither here nor there. When something is as majestic and awe inspiring as Lamanai, who cares what it's called.
This archaeological site is located beside New River Lagoon and is shrouded by large hardwood trees filled with monkeys and birds galore. The guides, many of whom are of Mayan descent, will tell you tales of their ancestors and one might even tell you that he's discovered the fountain of youth, and to look at some of them, you might think they have. While you listen to their tales, you can climb any or all of these well preserved Mayan temples.
Once you set foot on this world class site, your mind will conjure up images of the ancient Maya kneading their grain, roasting their corn and preparing for one of their many ceremonies. As you walk through this abandoned site of an ancient civilization, history seems to come alive as the reflections of the past beckon you to delve deeper into this mysterious world of the Maya.
When your eyes and mind can consume no more, we'll have a delightful lunch waiting for you. During or after lunch, you can visit the Lamanai gift shop and take home a souvenir from the past. Join your party at the van and head back to Belize City for your boat ride back to Ramon's Village Resort.
Trip departs Ramon's Village dock at 7:00AM and returns at 5:00PM. Requires a minimum of six persons or you can pay an additional fee and go with less than the minimum. Bottled water, soft drinks, continental breakfast and lunch are included. Requires a $5 USD park fee.