What's there to do?
Of course, everything necessary for a great vacation or dive adventure is on–site at Ramon's Village Resort. But, if you're the adventuresome type, you may want to rent one of our ecologically friendly golf carts and explore San Pedro and Ambergris Caye at your own pace.
Because Ramon's Village Resort is perfectly located in the village of San Pedro, you can drive in either direction to begin your sightseeing trip. Whether you head north or south, the road is really good for about 5 miles and it's safe to drive. Although, there is a fair amount of traffic and a lot of foot traffic, so be careful. Along the way, you'll see local businesses operating out of the first floor in many of the locals' homes.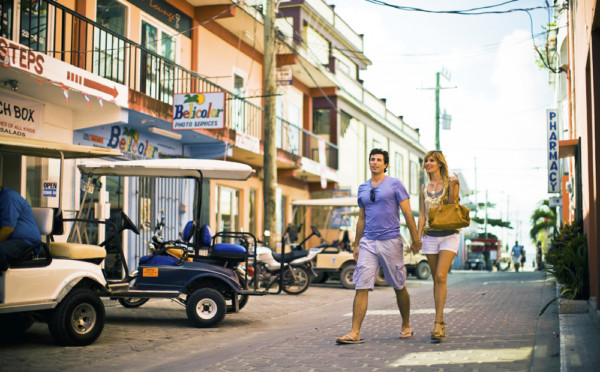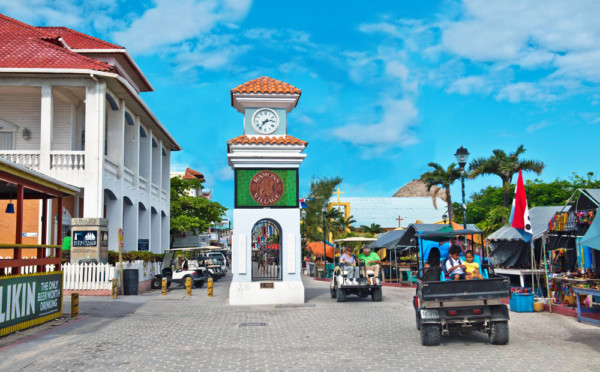 When tourism began to flourish on Ambergris Caye, many San Pedranos elevated their homes and made room for income producing businesses. You'll see shops selling a variety of things–souvenirs, t–shirts, woodcarvings and jewelry. Occasionally, an artist will display their wares along the side of the road. You'll almost always find a good deal, but regardless of the price, you will find that some of the local artisans are really good. You'll pass many other hotels, but none with the Polynesian flare of Ramon's Village Resort.
If you head north from Ramon's Village Resort, you'll travel through the center of San Pedro. We suggest you stop at several of the quaint souvenir shops, bakeries, jewelry shops, clothing boutiques, art galleries and the like. If you like shopping, you'll really enjoy Barrier Reef Drive (formerly known as Front Street).
San Pedro's Barrier Reef Drive is lined with gift shops, boutiques and art galleries. Cafes with local and international cuisine are plentiful. One of the most famous restaurants in San Pedro is Elvi's Kitchen. Here, locals and tourists sit side–by–side enjoying Ms. Elvi's home cooking. If you get to meet Ms. Elvi, tell her Richard and Gina said, "hello."
If you travel far enough south, you'll come to the city lagoon. It's a 30–acre lake that is home to some huge crocodiles. Around dusk, the crocs get very close to the shore. If a local or foolish tourist decides to feed them you will see a site that only those who have been to Africa have ever seen.
∗Note: It is against the law to feed the crocodiles, so don't violate this law! Please!
Just past the Catholic Church in downtown San Pedro, you'll dogleg to the left, go one block, then turn right and continue north on Pescador Drive (formerly known as Middle Street) to the Boca Del Rio Bridge. If you want to cross the bridge you can do so for a toll of 10.00 BZE ($5.00 USD). The area of Ambergris Caye north of the Boca Del Rio Bridge is a little more primitive and mosquito populated in certain seasons, so take some bug spray. The San Pedro Mayor and Town Council have undertaken a road paving project extending northward which is helping with the dusty or muddy roads. The road has been surfaced for several miles beyond the bridge, but it gets a little rough beyond that. So, we encourage our guests not to go beyond the surfaced road.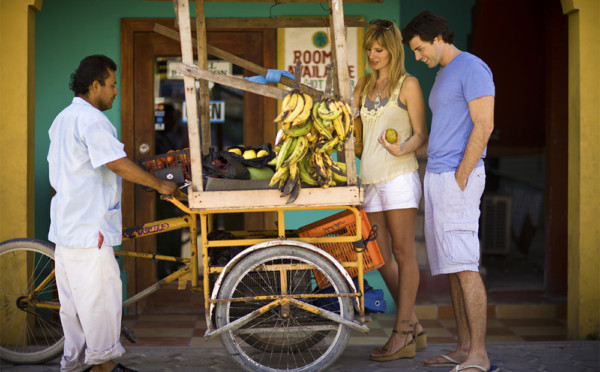 The farther north you go, the more development you'll see going on. Who knows? You may see an opportunity to invest and become a part of the Belizean experience! (The owners of Ramon's did and it's been one of the highlights of their lives.)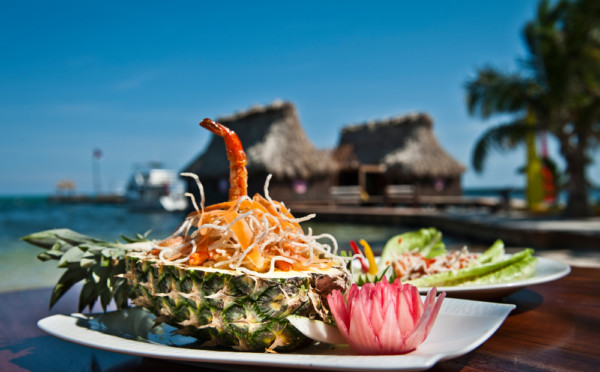 After your tour of our island is complete, come back home to Ramon's Village Resort, take a nap and rest up for dinner at Pineapples On The Beach restaurant. We promise it will be very, very gooooooooooood! On Tuesday night, don't miss the Beach BBQ with live music! Delicious!
Of course, no one should come to Belize and not enjoy the wonders of the world's second largest barrier reef and the beauty of the marine life that call it home. There are all sorts of diving and snorkeling adventures to take advantage of with the friendly, knowledgeable, all–Belizean professionals at Ramon's Village Divers.
One day you may want to go fishing. Whether you choose to fish beyond the reef for sailfish, marlin or wahoo or on the flats for bonefish and tarpon, you'll enjoy the experience.
If you don't want to exert yourself, we can help you with that too! Maybe you just want to stick your toes in a bucket of warm water and let some island beauty care for them the island way–at our Beach Spa! That's great, but your fingers will get jealous and they will want some pampering too! And of course, your hands, arms, back, shoulders and legs can't be left out, now can they? So, ask our Ramon's Village Beach Spa attendant to fix you up with the works– a head to toe beach massage!
If you are a newly wed couple, then start your honeymoon and new life together in our Honeymoon cabana. Located on the beach just steps away from the Caribbean Sea, it's a place of romance and relaxation. Dreaming of a beach wedding? Ramon's Village Resort has a dedicated Wedding Coordinator who can assist you with all of the details for planning a beach wedding at Ramon's. Bring your entire wedding party and let us do all of the hard work while you and your wedding party members frolic in the sand!
A favorite pastime of most guests of all ages is enjoying the coral sand beach as they soak up the Vitamin D and get tanned to a golden brown by the warm sun glistening off the azure blue waters of the Caribbean.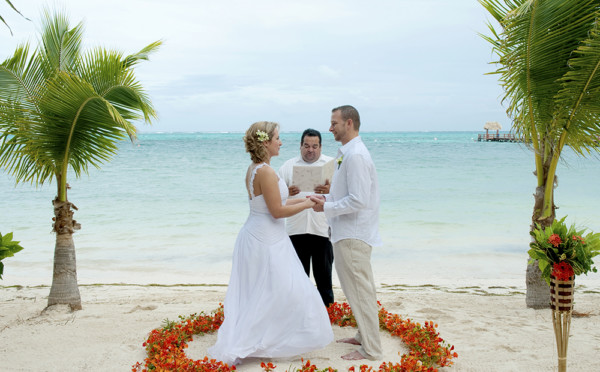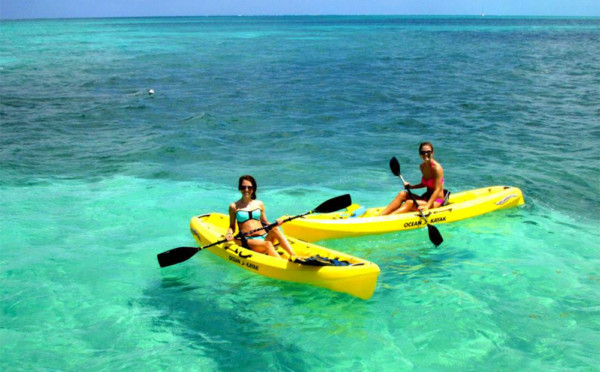 If the activities above haven't worn you out, you may want to book a bird watching-shelling excursion or rent a kayak or paddle board. If you still have excess energy left over, join in a game of football (soccer) with the locals downtown or swim and snorkel around the Ramon's Village dock where you'll find thousands of fish swimming around the submerged anchors and canon we recovered from an old Spanish galleon many years ago.
Or, you could just lie back on our beach or in a hammock and do absolutely nothing. Remember, that's really what you came for, now isn't it?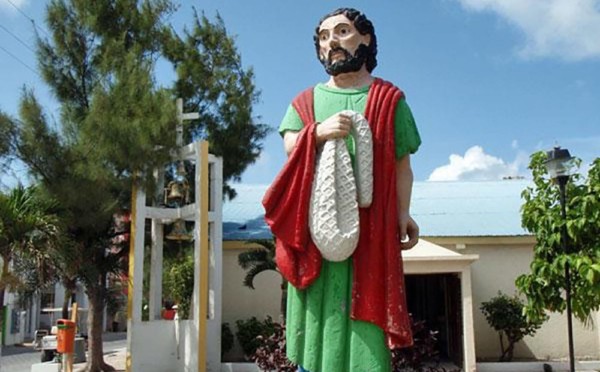 Churches
Yes, there are plenty of churches on Ambergris Caye, including Catholic and Protestant. Some of the services are in Spanish, some are in English and some are a little of both. Should you be interested in attending a worship service while staying with us please let our front desk staff know your religious preference and they will confirm the service times for you, since they often change without notice. Lighthouse Christian Radio, FM 101.3, broadcasts 24-hours a day and plays inspirational music and conservative evangelistic messages.
Some of the local churches include:
Assembly of God

Familia De Dios (Family of God)

La Reformada (Reformed)

Living Word Church

Pentecostes (Pentecostal)

San Pedro Community Church

San Pedro Roman Catholic Church

7th Day Adventist Church

Shalom
Restaurants
San Pedro Restaurants
Richard & Gina Headrick, owners of Ramon's Village, highly recommend Pineapples on the Beach which is located "on the beach" at Ramon's Village Resort. Chef Rommy Kie and his culinary staff offer an amazing selection of specialty dishes that are guaranteed to please the