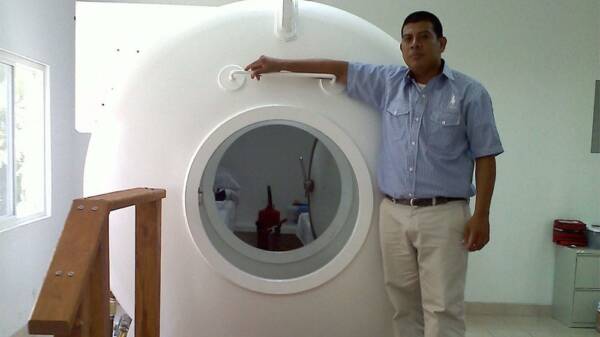 San Pedro is now home to two Hyperbaric Chambers. While most divers will never have need to see the inside of a chamber it is comforting to know that not just one but two are available should the need arise.
Sub Aquatic Services with the support of local dive operators opened the Belize Hyperbaric Facility in 1989. The Chamber is conveniently located on the west side of the San Pedro Airstrip, next door to Captain Sharks Marine Supplies. Several resident doctors oversee the trained technicians on a rotational basis. They are available 24/7 at 226-2851.
San Pedro's newest chamber facility, The Belize Chamber Project, opened its doors for business in May of 2015. This DAN affiliated chamber is also conveniently located at the Ambergris Hope Clinic on Pescador Drive (Middle Street) in San Pedro and is operated under the supervision of Dr. Daniel Gonzalez. They are also available 24/7 at 226-2660
Both facilities accept DAN Insurance as well as major health care plans. Again most divers will never have the need but we recommend that you check with your health care provider to confirm that you are covered while Scuba Diving in Belize. You may incur substantial out of pocket expenses while waiting for your health care provider to cover your claim. With DAN Insurance there are typically no out of pocket expenses. You may purchase DAN Insurance at Ramon's Village Divers counter.