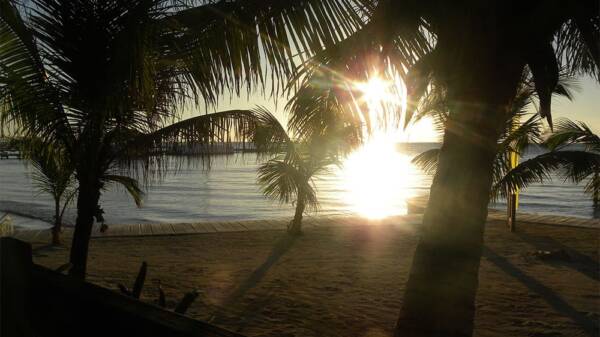 Feel like Leonardo and Kate as they stood on the bow of the Titanic! Remember how he climbed up on the bow railings and then, as if he were Rocky Balboa, held his hands and arms skyward and shouted, "King of the World." You too can be exhilarated to unbelievable heights as you and your honey, or your entire family, join our captain and crew aboard our thirty-eight foot catamaran.
Shortly after leaving Ramon's Village dock, the western sky will begin to fill with the golden glow of the setting sun. As it lowers behind the horizon, millions of diamond like reflections tip each wave and ripple as far as the eye can see. You'll never forget the first time you experience this incredible display of Heavenly handiwork.
Our return leg takes you in front of San Pedro where you'll get a glimpse of what our town looks like at night. Listen as the Calypso beat fills the night air and your "Titanic" glides gracefully across the waves. Snuggle with your honey and reflect upon the wonder of it all as the gentle Caribbean breeze massages you gingerly all the way home.
Times will vary slightly with the season. Depart the Ramon's Village dock around 5:00PM and return around 7:30PM. Requires a minimum of six persons or you can pay an additional fee and go with less than the minimum. Bottled water and soft drinks are included.
CUSTOM CRUISE: Any of our cruises can be customized to fit your schedule and requirements. We can accommodate up to twenty-five guests, provide a mariachi band, a succulent dinner and if you want to get hitched, we'll marry you as the sun casts its brilliant rays across our bow. The Caribbean is for lovers, and so is our service. Enjoy it all.