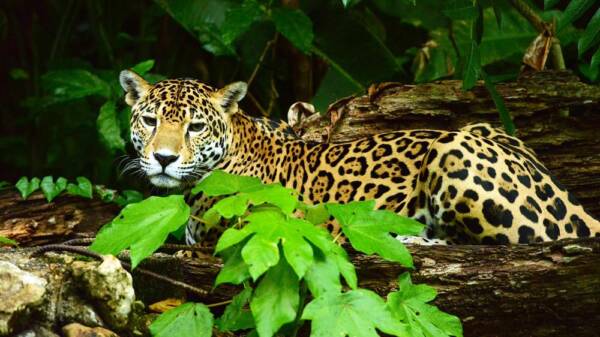 This is a wonderful excursion, particularly if you have kids. They will love every minute of it. Enjoy a scenic boat ride across the shallow waters that lie between San Pedro and the mainland of Belize where you'll be met by your tour guide. An air-conditioned tour van will pick you up, and together you'll travel up the Western Highway into the mountains of Belize and to the Mopan River. There, you'll board a small ferry that is hand cranked across the river. Once across, you'll drive up a hill and around a curve, and there, you will see history unfold before your very eyes, the Mayan ruins of Xunantunich.
Savor this experience! Close your eyes and imagine children playing, women roasting corn and men discussing their next conquest. Listen for the cheers of the crowds around the ball court when kings battled kings for power. Take plenty of photos to show your friends back home. After your tour of Xunantunich is complete, join your driver as you retrace your steps to the Five Sisters Falls, an interesting little restaurant between Xunantunich and the Belize Zoo where lunch will be provided. You'll dine on a veranda overlooking the rumbling falls as water cascades over huge boulders. If you're brave enough to encounter the flocks of geese that "protect their river," then you can take a dip, if time permits.
Get ready for the zoo of all zoos. You won't believe it. It's incredible! There are no bars, no motes and no barbed wire to keep the animals secure. Simple enclosures that will boggle your mind maintain your safety,while allowing you to see various animals, birds and reptiles in their natural habitat. The folks who came up with this concept are certain to receive great accolades from zoologists in the years to come. The zoo was created as a sanctuary for the country's indigenous species and is now home for an impressive array of large cats, primates, reptiles and birds. A visit to the zoo gives you the opportunity to see Belize's amazing wildlife in one location.
Trip departs Ramon's Village dock at 7:00AM and returns at 5:00PM. Requires a minimum of six persons or you can pay an additional fee and go with less than the minimum. Bottled water, soft drinks, continental breakfast and lunch are included. Requires a $5 USD park fee and $15 USD zoo entrance fee.